Krungsri Research, the information arm of Krungsri Bank, believes the provincial housing market in Thailand will pick up starting next year. Chiang Mai, Chonburi, Rayong, Nakhon Ratchasima, Khon Kaen and Phuket are the areas expected to see the biggest jumps in 2022 assuming tourism and the economy begin to recover from the COVID-19 pandemic.  
Information from Krungsri Research reported by The Nation found that land prices in these six provinces rose by eight percent in 2020 despite many developers delaying new launches. That is expected to change next year, and the bank believes several firms are building up land banks in anticipation of a provincial housing boom.
Investment in infrastructure across Thailand will help support this boom. In Chonburi and Rayong, work on several projects related to the Eastern Economic Corridor has stabilized the local property market. Meanwhile, Nakhon Ratchasima and Khon Kaen will benefit from the Sino-Thai high-speed rail line.
Phuket waiting for tourists to return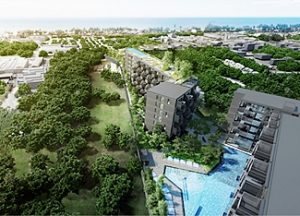 In Phuket, local developer Botanica Luxury is confident that when the island reopens to tourists, real estate buyers will quickly follow suit. The firm believes it will take the market less than a year to recover once that happens.
"We firmly believe clients who have been waiting for Thailand to reopen are going to return quickly. The market will gradually return to normal within six months to a year," Khun Attasit Intarachooti, Botanica Luxury CEO, noted in an interview with Dot Property. "We do not expect fast sales as we saw in the past, but we do expect people to come down to Phuket as they search for an investment and holiday home."
With more people now able to work from home, villas and other low-density developments in areas outside of large cities are now practical permanent residences for many people. This is perfect for a location like Phuket.
Related: Phuket property market looks to rebound
Khon Kaen benefits from infrastructure
While provincial housing markets like Phuket and Chiang Mai are familiar to overseas investors, Khon Kaen is not as well known. However, the region is positioned for future grow thanks in large part to infrastructure investment that has improved connectivity.
Khon Kaen Airport is currently undergoing extensive renovations that will allow it to handle five million passengers annually and increase the number of destinations available to travelers. And this is only one of several infrastructure projects that is set to transform the region into a transport hub that serves a key link between Southeast Asia and China.
The city is located along the second phase of the Sino-Thai high-speed railway that will eventually connect Bangkok to Kunming in China. Local officials are confident this will spur business and provide new opportunities. It will also make Khon Kaen attractive for companies looking to expand their presence in both Thailand and Asia as a whole.
Related: Thailand real estate's next big thing: Learn how 8Villas is leading the way in Khon Kaen