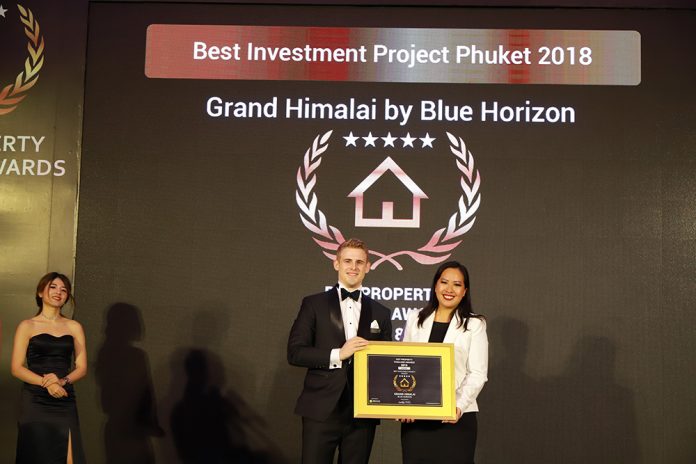 The Dot Property Thailand Awards 2018 were an amazing night for the Blue Horizon team. The firm collected a total of three awards solidifying its status as one of the Kingdom's best developers. 
The night began for Blue Horizon when it was presented with Best Mixed-Use Project Phuket for its Grand Himalai development. This would not be the only honour for Grand Himalai as the project, which is currently 95 percent sold out, was named Best Investment Project Phuket later in the evening.
Read more: Blue Horizon is Phuket's best in 2018
The success of Grand Himalai would simply be a sign of things to come. Blue Horizon would collect its third award towards the end of the night. The prestigious Best Developer Phuket was bestowed upon Blue Horizon for the second consecutive year. 
"Every single award has a meaning to us. Winning always has meaning to us. We are constantly improving ourselves and developing ourselves to ensure we are coming up with projects that consumers want," Natt Kawinrachataprida, co-founder of YSIS Co., Ltd, says. YSIS is Blue Horizon's marketing partner.
The Dot Property Thailand Awards 2018 was a great occasion for Blue Horizon, but the award winning developer doesn't plan on stopping anytime soon. The company has its sights set on creating more outstanding development and winning more awards in the years to come. 
"We are going to be launching a new project in September so stay tuned for what we have next," Natt exclaims.  
Click here to read more how Blue Horizon is bringing Phuket to the world or scroll down to see photos of Blue Horizon from the Dot Property Thailand Awards 2018.
Blue Horizon has a big night in Bangkok at the Dot Property Thailand Awards 2018!