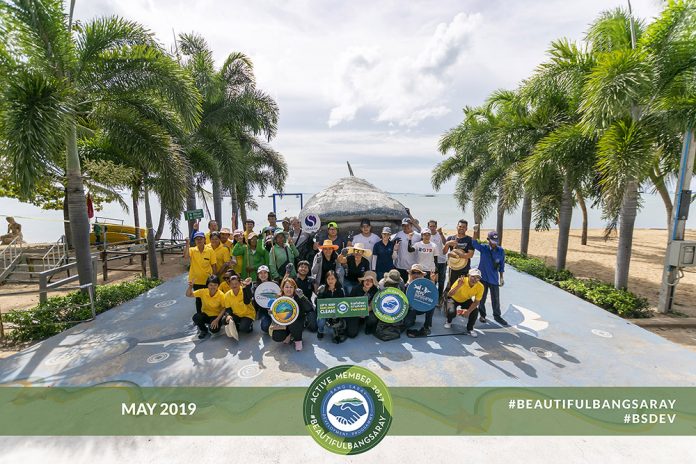 The following article was submitted by Sisaran Group.
Situated just 90 minutes from Bangkok and 20 minutes from the resort city of Pattaya, Bang Saray is an oasis. It's a million dollar backdrop looking over to the city. The stunning vista of the peninsula melts into the sea and the charming ambience are turning this seaside village into one of the Eastern Seaboard's most coveted locations. 
Naturally with the spotlight comes increased development, tourists and a growing number of residents. While these are positive for the economy, popularity can sometimes come at a price. Population density, traffic congestion, overdevelopment and a lack of environmental prudence have been contentious issues facing some of Thailand's once picture perfect locations.
In Pattaya there is massive overdevelopment, with no sign of a slowdown. Bangkok's traffic has long been touted as one of the world's worst and the famous Maya Bay on Phi Phi Island became so tarnished by mass tourism, a decision was made to close it to the public. 
The buck must stop somewhere!
Fortunately, Bang Saray has implemented enacted several regulations designed to curb overdevelopment. Building heights are limited to just 23 metres meaning there are approximately 70-80 percent fewer units than in a comparable zone in Pattaya littered with high-rises. Meanwhile, solar-powered lights illuminate the beachfront, eliminating the sea of wires that border many Thai beaches. While regulations and smart city planning are central to laying groundwork, change really begins at the grassroots level. It starts with everyone. 
With four projects in Bang Saray, Sisaran breathes this philosophy. So much so that the developer founded and helped develop a community initiative aptly named, the Bang Saray Development Program (BDP). Under the moniker "We Are Where We Live", the BDP set out to engage the local government, Bang Saray's stakeholders and residents about the need to preserve the community's natural beauty. The goal is to take a proactive approach in setting an example that could, over time, really promote a change in behaviour and mentality. 
Two years later the effort continues. Once a month, business owners, officials and locals can be seen scouring the beaches and village streets taking part in a monthly clean up. Additionally, preservation and beautification projects have taken place with the goal of complimenting the surroundings. Bang Saray has long been a beacon of cleanliness in comparison to its neighbour, but since the launch of the BDP, trash bags have been getting lighter and there really does appear to be a growing movement.
If environmental issues are tackled before they get out of hand, disaster can be averted. It is as simple as regularly doing a little bit.
If you are close to the Pattaya, Jomtien, Bang Saray, Sattahip or Rayong areas, or somewhere else and just feel like getting involved and lending a hand, send a message to the BDP at the organizations Facebook page or contact Sisaran Group for more information. Click here for more information.
"Movements like this have the ability to make a huge impact on local communities, but only if people rally behind them."
Sisaran Group is a developer that is increasingly adopting a green focus. The company's latest project, Econdo, makes use of passive design elements and environmentally friendly inclusions. The low-density project features only 64 units and is the first of its kind in Bang Saray. Nestled between the town and ocean, the final block of 20 units was recently released and is available for personal living, or with an eight percent annual rental guarantee. What better way to soak up the serene ambience that is Bang Saray.
For more information, contact Sisaran Group: benjamin@sisaran.com