What type of property are buyers looking for on Phuket? What is the preferred price point? We tracked inquiries made through the Dot Property network of websites between January 2018 and May 2019 to find those answers. Here is a breakdown of some of the most popular spots on the island.
Patong
Popular tourist spot Patong had the strongest demand between Januray 2018 and May 2019. Most of it was for condominium units. One-bedroom units were by far and away the most inquired about unit type, with some interest recorded for two-bedroom units. This correlates with the rise of condotels in and around Patong that cater to investors who also want a holiday home.
More than 75 percent of all demand in Patong was for condominium units priced at THB5 million and less. There was a noticeable increase in interest for units priced above THB5 million between July 2018 and September 2018 while remaining fairly steady during the remainder of the 17-month survey period.
Interest for condominium units in Patong is relatively strong throughout the year with demand peaking towards high season (November-January) and tapering off a bit in March and April. May of 2018 was the slowest month of the survey while demand was close to peak levels in May 2019.
As developers in Patong come to terms with the fact demand for properties is no longer dictated by high and low season, it is likely that the peaks and valleys will continue to dissipate.
Kamala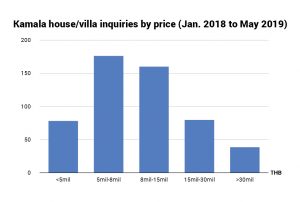 Kamala is home to a wide variety of residential projects which helps explain why demand in this area of Phuket is distributed fairly even between detached housing and condominiums. In fact, there was nearly an equal amount of inquiries for each category between December 2018 and May 2019.
In the housing/villa sector of the market, demand was spread across all price ranges. A total of 33 percent of housing/villa inquiries between January 2018 and May 2019 were for properties priced at THB5-8 million while 30 percent of demand was for residences in the THB8-15 million price range. Another 14 percent were interested in detached homes with a price tag of THB15-30 million.
Rawai
Rawai is located on Phuket's southern tip and is known for its high-end residences. Demand leans towards the luxury segment with more than 60 percent of all inquiries made via the Dot Property network coming for detached housing/villas priced at THB8 million and above.
Karon and Kata
Karon Beach and Kata Beach are only separated by a couple kilometres and are the second and third most in-demand locations in Phuket. The majority of inquiries in both places were for one-bedroom condominium units, but the price people want varied quite a bit.
In Karon Beach, more than 56 percent of all inquiries were made for condominium units at the THB3-5 million price point. The second highest demand was for units less than THB3 million, but this segment only accounted for 14 percent of inquiries.
The THB3 million and less segment was the most in-demand when it came to Kata Beach, but interest was spread out more evenly. Slightly more than 34 percent of inquiries came for units in the low-end of the market, but there was also strong demand for luxury condominium properties. Almost 19 percent of inquiries made via the Dot Property network were for condominiums priced at THB10 million and above.
Cherng Talay
Cherng Talay has a mix of villas and detached housing and demand for these properties was steady between October 2018 and May 2019. The majority of inquiries are for two- and three-bedroom units. This part of Phuket is one to keep an eye on as several new developments are in the pipeline. None are bigger than the THB1 billion (USD32 million) Porto de Phuket mixed-use development launched by Central Group this year.
Nai Harn
Demand for detached housing/villas in Nai Harn between May 2018 and May 2019 showed a couple of noticeable trends. For starters, demand fluctuated here far more than elsewhere in Phuket on a monthly basis. August and March in particular stand out as times of peak demand.
Secondly, the bulk of demand came in two price categories: THB5-8 million and THB8-15 million. The former category accounted for 43 percent of all inquiries while the latter price point recorded 33 percent of demand.