A stroll around Lumphini Park is still as calming and peaceful as ever. But just outside the walls of Bangkok's largest park a battle is being waged. In one corner you have One Bangkok, a project being hailed as Thailand's largest integrated development. And on the other side is Dusit Central Park, a complex that will sit on the site of the old Dusit Thani Hotel.
One Bangkok and Dusit Central Park are both leasing this prime real estate from the Crown Property Bureau. Each project promises a lot and are leveraging Lumphini Park for marketing purposes, but what exactly can you expect when they are eventually completed?
One Bangkok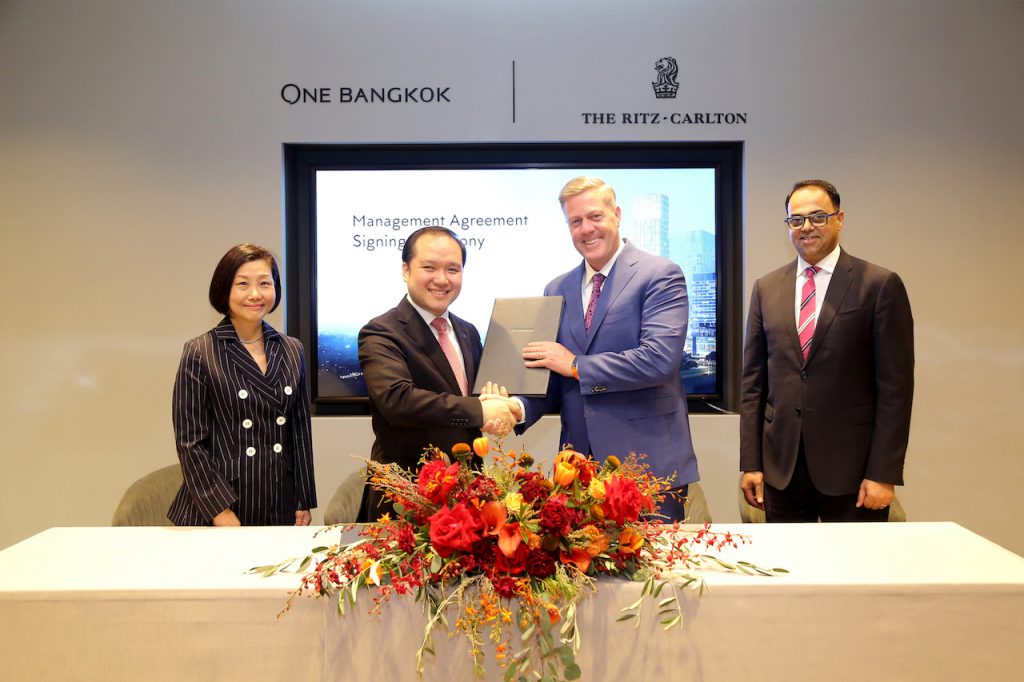 Developer: TCC Assets and Frasers Property
Cost: THB120 billion
Land type: Leasehold
First buildings to be completed in 2022
Hype was at a fever pitch when One Bangkok first launched more than a year ago. And while construction has continued on the project, details have remained sparse. Developers TCC Assets and Frasers Property announced that the mixed-use development would be home to five grade A office buildings, five luxury and lifestyle hotels, four retail and leisure centres, three ultra-luxury residential towers, civic areas and a lot more during the kick-off event.
However, we didn't get a glimpse of who would be populating these until The Ritz-Carlton Hotel revealed that its first Bangkok property would be situated in One Bangkok. Set for a 2023 opening, The Ritz-Carlton Hotel, Bangkok is the first of five hotels set to open inside the massive mixed-use complex.
With the first buildings inside One Bangkok expected to open in 2022, it wouldn't be surprising to see a few more hotel agreements announced and perhaps a residential tower unveiled before the end of the year.
What they're saying about the project:
"With One Bangkok, I hope to enhance global confidence in Thailand as the epicenter of ASEAN and a key gateway and lifestyle city in Asia, as well as bring great prosperity to all associated with the project, whether as tenants, owners, or business partners," Charoen Sirivadhanabhakdi, Chairman of TCC Group and Frasers Property, explained.
Dusit Central Park
Developer: Dusit Thani and Central Pattana (CPN)
Cost: THB37 billion
Land type: Leasehold
First buildings to be completed in 2022
Dusit Central Park is much smaller in size and scope than One Bangkok, but will serve basically the exact same function. Plans call for a 39-storey hotel, a 69-storey residential building, a 49-storey office building and a nine-storey mall as part of the mixed-use development.
The joint-venture project sees one of Thailand's most popular hotel brand's, Dusit Thani, team up with the country's largest retail player, CPN. We know the hotel will fall under the Dusit brand and the mall will be part of the Central family, but the residences remain a mystery.
Designers are trying to create Dusit Thani Central Park so it appears to be an extension of Lumphini Park. But how effective this will be is up in the air since Rama IV Road as well as the Thai-Japanese Bridge stand between the park and the project. The hotel is expected to be operational in 2022, with the retail and office space ready in 2023 and residences finished in 2024.
What they're saying about the project:
"Dusit Central Park will be positioned to help bring Bangkok to a whole new level and set the standard for mixed-use projects in the city, as it is located next to Bangkok's major park, Lumpini Park, just like the iconic properties found adjacent to parks in New York and London," Suphajee Suthumpun, Group Chief Executive of Dusit International, stated.