It is difficult to travel in large groups. Especially to a place like Phuket where entertainment options are limited unless you have a car. It's basically beach, swimming pool or party which may be all you need. But, if you're travelling to the island with a group of friends or family, chances are others may not be as content with the itinerary.
Picasso Villas are different. Here you will find limitless activities designed to keep everyone happy. Multi-generational families, bridal showers, athletes training for events and all types of different groups choose the property knowing boredom will never be an issue. In fact, they are the most interesting villas in Phuket.
The FIFA certified 5-aside football pitch is undoubtedly the most notable feature of Picasso Villas. Sitting between the two residences, the pitch has seen its fair share of famous footballers turn up for a kickabout. For families, it is a great place to spend some bonding time with the young ones while large groups of friends can renew old rivalries on the pitch.
And while the pitch is primarily used for football, it does have other purposes as well. Athletes can utilise the space for training when on holiday during the offseason. Those participating in the Laguna Phuket Triathlon, or one of the island's many sporting competitions, are well served basing themselves at Picasso Villas for preparations.
Two villas, two themes, one masterpiece
Each side of the football pitch is adjacent to a uniquely themed villa. On one side you have the football-inspired, Villa Pablo while on the other side is Villa Paloma, a chic home whose muse is Hollywood icon Jayne Mansfield. Collector Mark Briere-Edney is the mastermind behind the project and each theme, Picasso, football and Jayne Mansfield, features items he has acquired over the years.
This provides each villa with its own unique ambiance. Villa Pablo feels more active. The entire two-story residence is decorated in football memorabilia. From chairs crafted out of the legendary kits of Pele, Cruyff and Beckham to boots and England caps from days gone by, the villa is a living, breathing tribute to the beautiful game. There is also a pool table upstairs to keep the fun and excitement going.
Meanwhile, Villa Paloma has a buzz befitting of Jayne Mansfield, the residence's inspiration. The property boasts the style of 1950s and 1960s in spades with memorabilia from the Playboy Playmate and actress found throughout the property. Authentic movie posters adorn the walls and the lounge room upstairs contains furniture from the Mansfield estate. Seeing it in person transports you back to the golden age of television and cinema.
Stylistic the two villas are different, but each one features the same outstanding design. They both have fully-equipped kitchens, a dining area and expansive living room that opens up into the back where you'll find a swimming pool. The floor-to-ceiling, retractable glass doors allow you to open up the space to enjoy the breeze while creating a spacious sociable area.
In fact, the openness of the floor plan means that even with ten people staying in a villa, it never feels cramped or overcrowded.
Post wedding bliss
Phuket remains one of the most popular beach wedding destinations in the world, but things can get awkward for family and friends of the bride and groom when it comes to accommodations. If they are all staying at different resorts in Phuket, planning, organising and simply getting everyone to show up on time becomes a burden for the couple.
Alternatively, booking a block of rooms at one hotel can be pretty pricey regardless of who pays. Meanwhile, family and friends are stuck in smallish accommodations where some might feel a bit confined or restricted. Picasso Villas provide a unique alternative.
The two villas can be booked and split however you choose. It could be the bride's side in one villa and groom's side in the other. Perhaps family can stay in one and friends in the other. Whatever works best for you. The large size ensures everyone has the space they need while also being able to mingle with one another. And should you wish to forgo the beach wedding and want something a bit more intimate, staff can help arrange your ceremony on-site.
Unlimited activities, connected location
The location of Picasso Villas is a treat. It is secluded from the hustle and bustle of some of the island's more popular tourist spots in Bang Tao. When you spend time here, you feel far removed from the hordes of beachgoers that can ruin a relaxing holiday.
Yet, Picasso Villas is still close to everything you could possibly want. The shores of Laguna Beach are easily accessible from the property. You will find plenty of top-notch golf courses as well as several other recreational opportunities nearby. The area around Picasso Villas is ideal for bicycling or jogging. Meanwhile, the nearby Boat Avenue shopping centre has a yoga studio along with a wide range of shopping and dining options including an international supermarket.
A little further afield is Surin Beach where you will find an array of beach clubs and fashion shops. Best of all, Picasso Villas is only 20 kilometres from Phuket International Airport meaning you won't spend all day driving to get here.
Everything taken care of
Service plays a very important role at Picasso Villas. Whether you are staying for one night or one month, the staff will ensure the stay is memorable. For starters, cleaning service is provided everyday. Believe it or not, this is something not available at many similar villas in Phuket.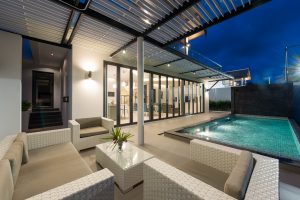 Assistance goes way beyond this. Do you want a chef to come in and cook? The team at Picasso Villas can make this happen. Do you need to be picked up from the airport or want a ride to a local shopping centre? It can be done in no time at all. Every request is promptly responded to so you're able to focus on what's important: relaxing in paradise.
Speaking of being in paradise, should you want to check out some of the local sites and sounds, it can be arranged. Picasso Villas even has its own long-tail boat and can take you out on a private trip should you be so inclined. Not only is it fun, but it is one of the most authentic Phuket experiences you could take part in.
Stay at the most interesting villas in Phuket
There is no shortage of 5-star villas in Phuket, but Picasso Villas offers a one-of-a-kind experience that makes it perfect for those travelling in large groups. The peaceful ambiance of Bang Tao shines as you relax on the patio with friends or family and feel the cool island breeze.
Evenings can be spent on the football pitch having fun and making memories. After that, everyone can share a meal under the starry night. It is an experience that matches Picasso's painting in beauty. And much like the work of the man himself, Picasso Villas are much better to view in person than through photos.
For information and reservations please visit: www.picassovillasphuket.com
Phone: +66 (0) 898222524
Address: 5/117 Pasak Moo 4, Cherngthalay, Thalang,
Phuket 83110, Thailand