From interiors to exteriors and condominiums to villas, the class of design winners at the Dot Property Thailand Awards 2019 leads the way. But each winner offers more than just beauty. They bring intelligent designs that offer functionality in addition to style. Without further introduction, here are a few of the design winners from the Dot Property Thailand Awards 2019.  
Best Condominium Interior Design Bangkok – Chalermnit Art De Maison from Areeya Property
The amazing interior design at Chalermnit Art De Maison all starts with the Areeya Property's determination to create a "hand-crafted living experience". Whether it is the bespoke fittings and furniture that comes standard in each unit or the use of sophisticated materials throughout every square metre of the project, no stone has been left unturned in search of perfection. This has allowed the interior design of Chalermnit Art De Maison to meet the discerning requirements of those who enjoy the finer things in life. 
Best Architectural Villa Design Phuket – Lapista Luxury Villas Designed by Oracle Architects
Lapista Luxury Villas Designed by Oracle Architects utilise smart architectural villa design to enhance the beautiful natural surroundings. For example, residences offer breathtaking views while still providing exceptional privacy. The villas themselves are nestled into the surroundings and the architectural design makes it feel as if they are an extension of the area. What's more, a number of other features, such as high ceilings, ensure a luxurious ambiance. 
Best Housing Interior Design Phuket – Lotus Villas from Sawan Holdings
The interior design at Lotus Villas is modern, sleek and ideal for those who want a peaceful stay in Phuket. Large open spaces are accentuated with tasteful decor that brings about a relaxing vibe. The blend of functionality with attractive interior design elements also needs to be applauded. Lotus Villas do well, striking the right balance between luxury and usability. 
Best Condominium Smart & Green Design – The Sky Sukhumvit from Property Perfect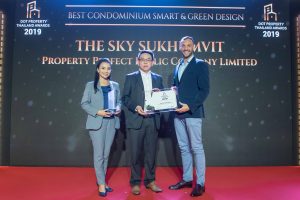 Not satisfied with simply building a high-rise condominium, Property Perfect wanted The Sky Sukhumvit to offer unmatched liveability. In order to accomplish this, the developer incorporated the latest smart technologies into the development that provides residents with significant convenience. This is combined with impressive gardens and green design that span each of the five buildings at The Sky Sukhumvit. The smart and green design is sublime helping people feel as they can escape the urban jungle without leaving city limits.     
Best Landscape Architectural Design Phuket – Platinum Bay from New World ADM Platinum(Thailand)
In a place like Phuket, it is important for landscape architectural design to embrace the tropical theme. After all, it's one of the main reasons people come to Phuket. But doing so in a way that doesn't feel contrive can be a challenge. No project on the island manages to accomplish this as skilfully as Platinum Bay. Impressive gardens and green spaces weave naturally through the various buildings as the tropical ambiance feels incredibly effortless.