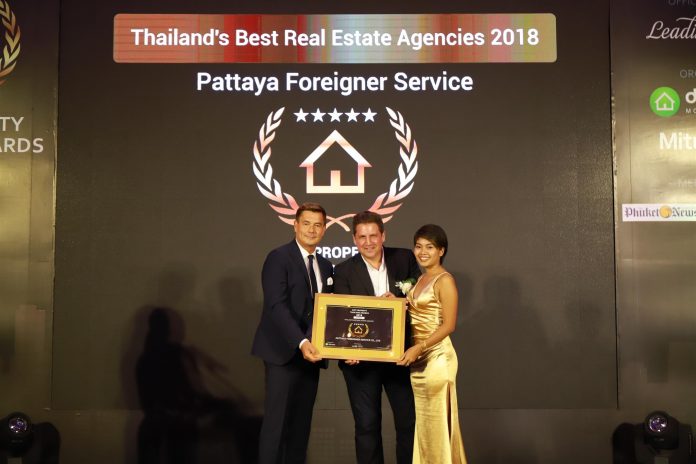 The inaugural Thailand's Best Real Estate Agencies 2018 Presented by Leading Real Estate Companies of the World® were honoured at the Dot Property Thailand Awards 2018. The best real estate agents in Pattaya were among those to take home awards. 
Each of these firms share a few traits that allow them to excel. Customer service is a priority for each of these winners and the best real estate agents in Pattaya all boast deep knowledge of the local market.
Meet the best real estate agents in Pattaya
Pattaya Foreigner Service 
Paul Camilleri, who has been working in Pattaya for nearly ten years, leads Pattaya Foreigner Service (PFS). It is an independent, Swiss-run property agency that provides unmatched service and affordable prices to all of its clients. Camilleri is best known for taking the time to get to know every buyer and seller and truly understanding what they are looking for. He is always willing to go the extra mile to assist his clients.
See more: PFS watches Pattaya transform into a diverse destination
"Pattaya has really become a place that has something for everyone. There are clubs of social activities and international schools providing instruction in different languages," Camilleri explained. "And don't forget the food. There is a very large choice of restaurants and most are quite nice. Diversity can be found all around Pattaya in many forms."
For more information, click here
Pattaya Realty
No one covers Thailand's Eastern Seaboard quite like Pattaya Realty. The company was one of the first real estate agencies to set up shop in Pattaya and the company has been helping clients for 17 years. This has provided the firm with a first-hand perspective of the market and it shares this with its clients.
Pattaya Realty employs both English and Thai-speaking staff who are fully trained to the highest standard, guaranteeing the very best service. They help property buyers, sellers and investors make effective decisions. In addition to residential property, Pattaya Realty also has a wealth of experience in commercial real estate. This sets them apart for many other Eastern Seaboard agencies. 
For more information, click here
Vauban Real Estate
Since 2006, Vauban Real Estate has been serving property buyers and renters, closing thousands of transactions in more than ten years. The firm's top priority is empowering clients with the ability to purchase their ideal property, whether it is for investment purposes, a residence or holiday home. 
Vauban Real Estate takes pride in its precise knowledge of the Thai real estate market and has a Pattaya office dedicated to serving clients throughout the Eastern Seaboard.
Fore more information, click here