This article appeared in the most recent issue of Dot Property Magazine. Click here to read it!
Developers across Thailand continue to innovate and adapt. Homebuilders have acted quickly and decisively to keep up with evolving consumer needs under the "New Normal". While this could be viewed as a challenge, the Dot Property Thailand Awards 2021 developer winners have approached the situation as an opportunity. Their hard work in that regard has seen them rise to the top of their field and earn recognition.
Best Developer Residential High-Rise
Navarang Asset
Navarang Asset boasts nearly three decades of experience. Over the years, its focus has been crafting developments that offer privacy, luxury and quality. Na Reva Charoennakhon, a recent high-rise launch along the Bangkok riverside, features several innovations for the area, including being the first to contain loft-style units.
Beyond that, it has been diligent in designing multi-functional living quarters tailored for today's generation. The emphasis at high-rise projects such as Na Reva Charoennakhon is livability which the developer creates through space.
Related: Navarang Asset soars with a new outlook on high-rise developments
Best Housing Developer
Pieamsuk Property Development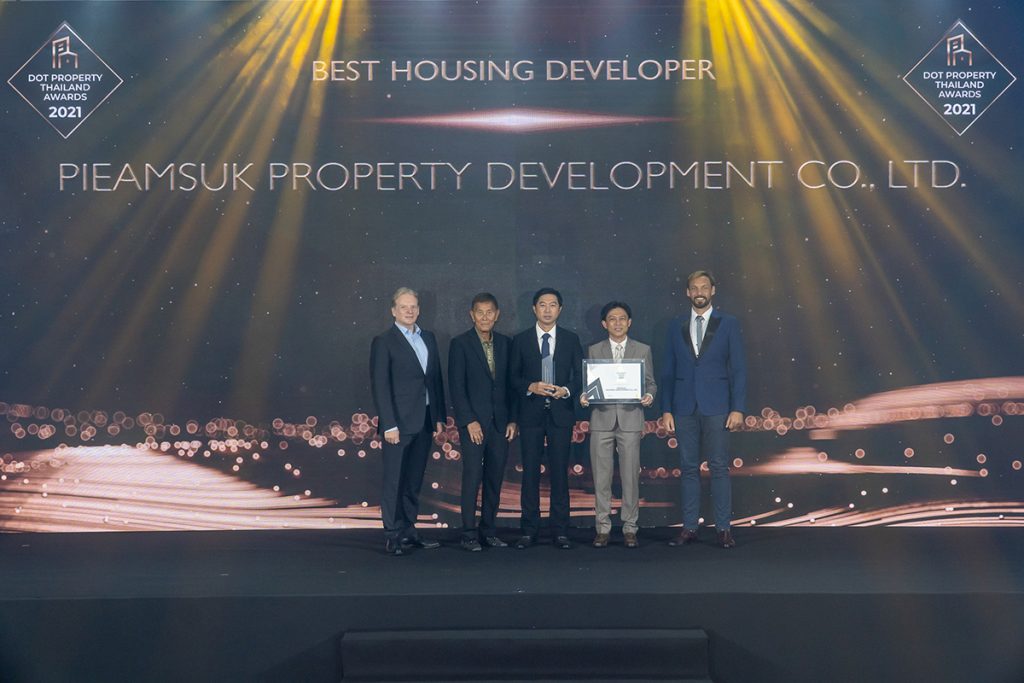 When it comes to low-rise housing in and around Bangkok, no one does it quite like Pieamsuk Property Development. The homebuilder has been active in this segment for almost 40 years. Its focus is on building quality homes that use strong, dependable materials.
Additionally, Pieamsuk is committed to creating innovations that improve the daily life of homeowners. Cool Tech, a feature that helps keep homes cool, and a specialized mobile application that provides a streamlined living experience for residents are just a few examples of its work in this regard.
Best Lifestyle Developer
Nichada Group of Companies
Nichada Group of Companies excels when it comes to lifestyle having won this title at the Dot Property Southeast Asia Awards 2020 in addition to taking it home again at the Dot Property Thailand Awards 2021. So, what's the developer's secret?
It starts with a singular focus on creating a lifestyle that appeals to those searching for a peaceful, safe, family-friendly place to live. From an international school to healthcare facilities and retail centers to green spaces, Nichada Thani contains everything the modern household needs in a single community just outside of the Bangkok city center.
Best Breakthrough Developer Phuket
Andaman Asset Solution
While Andaman Asset Solution boasts more than 15 years of experience, 2021 saw the developer scale up its efforts and breakthrough to a new level of success. Its projects show a deep understanding of Phuket along with a desire to help elevate the local real estate market.
The homebuilder focuses on villa developments that use authentic materials and handpicked furniture to ensure maximum quality. In addition to winning Best Breakthrough Developer Phuket, Andaman Asset Solution picked up three awards in the project categories last year.
Best Boutique Developer Koh Samui
LDR Group
Santi Pura Villas from LDR Group took boutique villa developments on the island to the next level. It was also a sign of the firm's continued growth as a homebuilder. From a leading investment program to exquisite designs, the developer offers the knowledge and capabilities of a big company with personalized service you'd expect from a small business.
Ultimately, LDR Group's passion for property, extensive local connections and unbeatable customer service has empowered it with a unique perspective that benefits customers. It comes as no surprise to learn Santi Pura Villas is among the most popular projects on Koh Samui.
Best Boutique Developer (Luxury Villas)
Dynasty Development
Dynasty Development makes sure its residences are practical in use but sophisticated by design with livability a key area of emphasis. This is accomplished by looking after every last detail, no matter how small.
The developer's flagship project is ISOLA Phuket, a previous winner at the Dot Property Thailand Awards. The luxurious villa estate provides the same level of bespoke service and attention to detail you would find at a 5-star resort but maintains an accessible price point.
Best Boutique Housing Developer Phuket
Zenithy Development
Zenithy Development takes a unique approach to boutique housing. The firm is driven by a vision to create beautiful and luxurious homes that offer exceptional value and quality that is within reach of most buyers.
Its projects are functional yet stylish and feature high-end materials throughout. As a boutique developer, Zenithy Development is also careful to maintain a low density and ensure exclusivity for its residents.
Related: Zenithy Development Creates The Best Boutique Housing in Phuket
Best Lifestyle Developer Koh Samui
SGQ DESIGN AND CONSTRUCTION COMPANY
SGQ Design and Construction is a relatively new homebuilder, but it did launch one of the island's most exciting projects in 2021. Avant Garden is a sleek villa estate featuring a unique aesthetic that is different from most developments currently found on Samui. This was done to create an exclusive lifestyle not available anywhere else.
From the limited number of villas available to an emphasis on the finer details, SGQ Design and Construction has curated a truly special experience. This was extremely important for the developer as it sought to provide the type of lifestyle people expect when visiting Samui.