The Bangkok condo rental market has lured investors with the promise of strong yields. However, not all condo units are capable of this. And even if you purchase the right condo in the right location, you still need to find a tenant. The Bangkok Condo Rental Market 2018 Snapshot presented by Dot Property contains an up-close look of supply, demand and trends that emerged last year.
All data comes from the Dot Property network unless otherwise noted. This story originally appeared in the Q1 2019 issue of Dot Property Magazine.  
Bangkok condo rental market: Demand   
Unit type 
One-bedroom condo units were the most in demand throughout Bangkok last year. Almost 54 percent of all condo rental enquiries on the Dot Property network were for single bedroom condos.
There was solid demand for two-bedroom condo units last year with 28.4 percent of Bangkok condo rental enquiries being for this style. Meanwhile, 12.7 percent of enquiries were for condo units with three or more bedrooms. Studio units received just a little more than five percent of rental enquiries. 
Price
Nearly a third, 32.1 percent, of Bangkok condo rental enquiries in 2018 were for units priced between THB10,000 and THB20,000. There was also strong demand for condo units with monthly rents between THB20,000 and THB35,000 with 28.2 percent of enquiries coming in this price range. Bangkok condo units priced at THB10,000 or below received 16.1 percent of condo rental enquiries in 2018.
At the high end of the market, condo units priced at THB35,000-THB 50,000 and THB50,000-THB100,000 received nearly the same amount of enquiries last year. Similar to Bangkok condo purchasing trends, price becomes less of a factor at a certain point, in this case around THB40,000, and most renters focus more on size, location and amenities.  
Most popular Bangkok districts
Khlong Toei – The Khlong Toei district borders Sukhumvit in the north and the Chao Phraya River in the south stretching from the Asoke to On Nut BTS stations. The area had the highest amount of rental properties listed on the Dot Property network in every month of 2018.
A number of new condo developments completed close to BTS stations created a spike in both supply and demand. One-bedroom units priced between THB10,000-THB20,000 and two-bedroom units with a THB20,000-THB35,000 price point received the highest demand. 
Developer watch: Several AP Development projects, including Life Sukhumvit 48, Rhythm Sukhumvit 42, Rhythm Sukhumvit 36-38 and Rhythm Sukhumvit 50, dominate the Khlong Toei district. All of these projects have been completed in the past few years.
Watthana – The Watthana district covers the same east-to-west stretch as the Khlong Toei district, but its southern border is Sukhumvit Road and the northern border is Khlong Saen Saep. The district recorded the second most condo rental enquiries in Bangkok last year. However, the amount was less than half of what Khlong Toei generated.
The most in-demand unit type throughout the Watthana district was for one- and two-bedroom condos priced at THB20,000-THB35,000. There was also good demand for condo rental units at THB50,000-THB100,000.
Developer watch: The race is on to build projects on both Thong Lor (Sukhumvit 55) and Ekkamai (Sukhumvit 63). Sansiri is leading the charge with The Monument Thong Lo, Khun By YOO Condominium Thong Lo and XT Ekkamai all expected to be completed in the next few years. Meanwhile, both Major Development and AP Development have a completed condo and an under-construction project along Ekkamai. 
Pathum Wan – The Pathum Wan district covers some of Bangkok's most upscale neighbourhoods such as Siam, Ploen Chit and Chit Lom. Land here is scarce and expensive which means both property and rental prices are higher here than anywhere else in Bangkok.
Two-bedroom units were the most in-demand condo rental type but enquiries were spread fairly evenly between the THB20,000- THB35,000, THB35,000-THB50,000 and THB100,000+ segments. 
Developer watch: Thailand's most expensive development, 98 Wireless, is located in the Pathum Wan district. However, all eyes are on One Bangkok these days. The massive mixed-used project across from Lumphini Park is being developed by TCC Group and Frasers Property. It will have a total of three ultra-luxury condominiums when it is finished along with multiple hotels and grade A office buildings.
Bangkok condo rental market: Supply
The Khlong Toei district has the largest supply of condo units for rent on the Dot Property network. There was a monthly average of 9,323 units listed in this district. The Watthana district has the second largest supply of condominium units for rent in Bangkok. The Pathum Wan and Huai Khwang districts had the third and fourth highest supply totals in 2018.  
When are people searching for a new rental?
August is known as a downtime in the world of Asian real estate, but it's also when Bangkok condo rental enquiries on the Dot Property network were at their highest. In fact, nine percent of all enquiries in 2018 happened during August. 
Peak season for new condo rentals was December and January which makes a little more sense. This is a time when people are starting new jobs or moving. Close to 20 percent of all Bangkok condo rental enquiries took place in these two months.
Unsurprisingly, the slowest month for Bangkok condo rental enquiries was April, a time when the city is at its quietest due to Songkran. The celebration of the Thai New Year sees a majority of people head home for the holiday with the public granted several days off work.
Competition
The Bangkok condo rental market faces two main competitors: single-owner apartment buildings and serviced residences. These each eat into a different segment of the rental market. 
Single-owner apartment buildings – Units in single-owner apartment buildings are larger and tend to be priced at the high-end of the market (THB70,000+). Most of these developments are older buildings in prime locations that have been renovated in many cases. Demand comes from expats with high housing allowances who are either on assignment or do not plan on permanently working in Bangkok.   
Serviced residences – The serviced residence market in Bangkok is focused mostly on prime areas and targets expat residents. It has grown in popularity in the past five years. A key driver of this is the fact prices at serviced residences are now competitive with new condo buildings in prime areas such as Thong Lor and Phrom Phong. The bulk of units in this segment are decent sized one- and two-bedroom residences. Prices can vary considerably depending on several factors including location, services and property brand. A well-known hotel can fetch a much higher premium even if the services and location are the same as a nearby competitor.
The expat challenge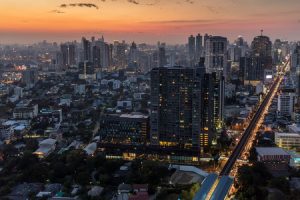 The Bangkok condo rental market is supported by expats. The majority of this group prefers to rent rather than buy. Unfortunately, the number of American, European and Japanese expats working in the Thai capital has remained stagnant this decade. This group has historically driven demand for high-end rental properties in the city.
There has been a surge in Chinese expats, but their impact on the rental market has been less significant due to the fact this group tends to have lower housing budgets, research from CBRE noted. The fight for expat tenants will continue as condo owners must not only fend off other units, sometimes in their own building, but competition from apartments and serviced residences as well.
Looking ahead
Research from Colliers International Thailand showed almost 120,000 condo units were launched by developers in Bangkok during 2017 and 2018. These are due to hit the market over the next two years. With a significant number of new projects targeting foreign investors, it's fair to assume some of these are going to hit the Bangkok condo rental market in the near future.
The impact this has remains to be seen. If investors who booked a condo unit take a look at the competitive rental market and opt not to follow through on their transfers, developers could take a significant hit. On the other hand, many Bangkok condo investors may forgo letting out the unit altogether and hold onto to it for the capital appreciation.