Acute Realty Co., Ltd. 216/65 L.P.N. Tower 15th Fl., Nanglinchee Road,, Chong Nonsi, Yan Nawa, Bangkok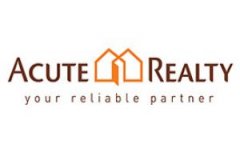 Acute Realty "Your Reliable Partner"
ACUTE REALTY has been one of leading real estate agents in Thailand since 2000. Acute Realty offers professional real estate brokerage service, sale & project management, property consultancy and tenancy management for individuals, corporations and investors via www.AcuteRealty.com and www.ThaiApartment.com Due to the growing needs and the success in the business, Acute Realty is now serving customers with 3 offices, covering Bangkok and Hua Hin. Moreover, Acute Realty responds to the need of customer's convenience by providing "One Stop Service" from our staffs who are qualified to be your real estate partner serving you with reliable information and service. Rest assured that you will have the best result no matter if you are a buyer or a seller. Acute Realty always strives for the best quality and improvement. Our vision is to be The Best Real Estate Agent in Thailand providing One Stop Service. For foreigners and Thai people who are looking for ideal property rentals and sales in Condominium, House / Townhouse, Land, Home Office / Office Building, Office Space, Showroom, Shophouse, Factory / Warehouse and Other properties in Thailand.